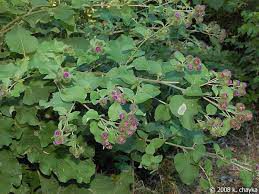 Botanical Name: arctium lappa
Fun Facts:
Is biennial.  In its first year, is low growing, but in its second year, can grow to 6′ tall
Know as the first "velcro" because of the burrs it produces after flowering
Was an ingredient in the first root beer
Location found: Lives along riverbanks, disturbed habitats, vacant lots, roadsides and fields.  Can be found throughout North America, except in the southern regions.
Identification: Has large, wavy heart-shaped leaves that are green on the top and whitish on the bottom.  Looks very similiar to rhubarb.  Has a large tap root.