Working with an herbalist, is a wonderful way to empower your healing journey, and receive guidance and support along the way.
As a community herbalist, I specialize in helping women over the age of 40 who are concerned with the physical aspects of getting older, such as with varicose veins, age spots, skin tags, etc.. By using natural remedies, they can look younger, and feel good about their bodies.
By helping open-minded people like you, I can help improve your health through alternative healing with a holistic approach and your willingness to embrace major life changes.
With the cost of healthcare on the rise (and we know it won't decrease), we need to look for other ways to manage our health and wellness.
Using herbs, and other plants, is a natural way to get get on the track of healthy and stay there.  Over 82% of the world currently uses herbs and other plants to provide a form of food and medicine.  And we know herbs have been used for thousands of years for healing.
"Plants are a wonderful and natural way to heal your body and maintain good health"
Using herbalism, I work with you, not disease or illness.  By that, I mean I use a holistic approach and try to find the root or underlying cause of what is causing the discomfort.
Some of the tools utilized are nourishing foods, exercise, herbal products, essential oils, etc.  We look at what will address your specific health concerns and what you are able to maintain.
In my apothecary, I start with homegrown and local plants in making all my herbal products to get the best results for you!
[put in link explaining why using local is best]
Set up a consultation today to begin a more healthy journey!
This is a wonderful way to empower your healing journey and receive guidance and support.
What to expect at your consultations
Herbal consultations are on average 30 to 45 minutes in duration. Initial visits tend to last longer with about 1.5 hours.
Your first visit begins with a review of the detailed intake form you filled out prior to your visit. Together we will look at your  health history, dietary and lifestyle practices, overall  constitution and any other factors that are related to the reason for the consultation. From this, we will develop an integrated wellness program that will support your needs. We will look at your whole person, not the symptoms perspective. We will create a specific week by week program so you are set for success as you begin your journey.
Herbal recommendations may involve various options depending on your personal needs. These may include herbal nutrition,  teas, tinctures, poltices, herbal baths, salves, creams or essential oils.
The primary goal of the consultation is to help you find a path that will work for you in your situation. After an initial visit we will look at what support you might need to accomplish your goals and set up subsequent visits if they are needed.
The consultation is a client-centered process, and you are encouraged to explore your individual health situation and needs and actively participate in your health care choices.
Follow-up consultation
The follow-up consultation is essential to your health commitment. During your follow-up visit we will discuss any changes that have occurred, your experience, concerns, how you are feeling, and your expectations. We will review your health recommendations and I will adjust your protocol or any herbal formulas as needed.
Follow-up appointments usually last about 30 minutes. Generally monthly or bi-monthly visits are recommended, or they may only be necessary on an as-needed basis depending on your needs.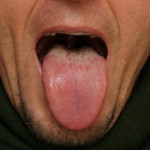 Steps prior to first visit:
Fill out this FORM.
Take a picture of your tongue as shown in the picture.

Please take the picture in as much natural light as you can.  Only leave your tongue out for about 5-10 seconds at a time.  If left out longer, it can cause discoloration and not show a true foundation.
The tongue can show a lot of what is happening in the body that one may not otherwise suspect.

Send the form and picture to me at:
theHERBAL Cache
5801 Summit Pointe Road
Monticello, MN 55362
or email them to me at:
theherbalcache@gmail.com
4. Schedule your herbal consultation today
Types of consultations
To help accommodate you, I can do your consultation in a few different ways:
In person

I recommend this one, because then we can develop a more personal relationship.  It's a lot easier to get to know someone, when you can see them in person.

Skype

This is a great option for those distance consultations or if travel is an issue.  We can still visually see each other and feel like we are in the same room.

 Telephone

Another option if the first two don't work for you.
Please note, there is usually a 1 hour prep for you initial appointment done before your visit which is included in our fee. It is generally recommended to follow-up with 1/2 hour visits, once a month for 3 months after your initial visit, and then as needed.
Cost
Initial wellness consultation(may be 1-2 hours visit) -$95
Three 45 minute wellness consultations over the course of three months – $195
30 minute follow up visits- $30
I do not accept insurance, so if this is a hardship for your family, please let me know at the time of making your appointment.  I can work with you to set up a payment plan or do a barter so that my care can still be accessible.
Please Note : Herbs or herbal formulations are a separate charge.
NOTE: Please understand, I am not a licensed medical doctor.  As an herbalist I do not diagnose, prescribe nor treat, but rather recommend, suggest or educate.  Herbal healing is not meant to replace medical diagnosis or treatment.